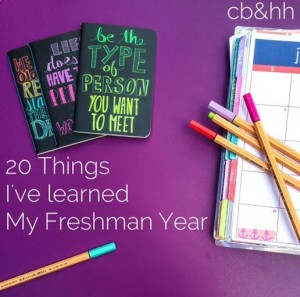 Woa, I am not longer a freshman. Not so while  ago I was packing all my stuff into two suitcases and working on my Visa, and a year went by.
When I moved to Philadelphia to start my career at Drexel University I was scared. It was a good kind of scared, but I was reading a lot about what is it like to be freshman. I looked at packing tips, things you shouldn't do your first day and a list of things a typical freshman would do (oh boy did I try not to do any of them)
After reading tons and tons of those articles, I wanted to be there and put what was written down on practice. And even if I did, I failed many times, I took the wrong classes (partially because a @#?! guy told me to and I believed him), I made friends and I lost them. But you know what? I survived!  I did it, I completed my freshman year feeling accomplished and happy.  And I want to share with you the things that I've learned so far.
there is a big chance that the friends you made the first week of class will no longer be in your life:  and to be honest, there is nothing wrong with that. The first week of class is filled with people trying to meet anybody, so you will be friends with whoever you find. Weeks will go by and you will meet people on your floor and in your classes, and the friend you met on the line for fries will find other friends too.
but there is also a chance that you will be best friends: how many people find their person the first week of classes? Kuddos to you people! For me, it took me more than a week (Well, two or three weeks) to meet the girl who became one of my best friends, and then, we expanded our group.
forget about stereotypes, but don't be shocked when someone asks you about your accent, your hair or sexual orientation. There are people that have never been near someone who is different than them, and sometimes their curiosity comes out as an attack. Unless they are aggressive or directly insulting you, don't feel offended.
go to class: and not just your body, but mind as well. Take notes, ask questions and answer whatever the professor asks. You will learn that way, and it will be easier when you actually have to study.
cafeteria food is okay. It's not heaven on earth, but you will survive a year of it. Most universities make you pay for it with your tuition, so don't waste the money and eat that surprise meat thing.
homemade food is heaven on earth: no need to explain this.
plan ahead: buy a planner, use your phone's calendar, use post its. Anything that will remind you what you have to do. Your schedule will change and you will have time between classes that you should use for something productive.
go to the gym, and try to be as healthy as you can. those pizza deliveries at 2 a.m happen, and if you live near an Insomia Cookie store you are screwed.
see what's the best schedule for you: for me, it was early classes. Yeah, i'm one of those weirdos. I found out that I rather have early classes and have the afternoon for myself than the other way around. I will wake up at 7 am, go to the gym and then my classes, and by 7p.m i was done with my day so I could go out, visit my friends dorms or just binge watch something on Netflix (i might have or might have not watched 7 episodes of Gossip Girl during mid-terms)
your roommate can be your bff, your worst enemy or just your roommate:  it is not always a perfect situation, but what do you expect when two strangers are put together in a room based on a survey?  My roommate and I were not friends, we did talk, and we shared food and comments now and then, but we never went out together, we never shared our deepest secrets. And it was perfectly fine for us. We got along just fine, we respected each others' spaces and we were silent while the other one was sleeping.  Then, on the end of the hallway there was this room full of drama and fights, and in the room across from that two girls from the same sorority that shared everything and loved each other to death. It can happen.
take advantage of what your school has to offer: we can rent computers in the library and our gym is free for students. There is a shuttle bus that will take you to the city and tons of free networking events (with free food!). take advantage of everything you can.
DON'T BUY TEXTBOOKS UNTIL THE PROFESSOR SAYS SO! yes, that deserves caps on. And even if your professor says you need it, ask for what. My anthropology professor wanted the book for quizes that were posted online. you could do every quiz the same day. I had that book for a whole quarter instead of just.
use your syllabus, it is the bible of your class.
ratemyprofessor.com will save your life. make sure to check your professors before going to that class.
you will fail some exams and maybe a couple of papers, and that is fine! don't give up and keep studying.
join organizations and clubs: it is one of the best ways to make new friends and keep your mind off school work. Keep in mind that there are so many organizations to chose from, and it is a great idea to join something that is related to your career.
try new things: go to parties you will never go before, try to write for the newspaper, try, try, try. It is your time to find yourself and what you actually like, and you will never know what's out there if you are always on your comfort zone.
talk to your professor: going to office hours seem so scary, but professors are there to help you!  My journalism professor offered office hours every week before her class, so we can show her our stories and she will give us one on one critique and how to improve it.
it is important to go to events and out with your friends,  but consider having me time at least once every two weeks. You are always surrounded by people, and you will need down time.
STUDY ABROAD! i studied abroad in an intensive program that was in Haiti, a place I will never even dream of going.  I am considering going to Madrid, ( schedule conflict), and once I am there, i will try to travel. After college it will be hard to find time to travel or go outside your hometown, and by studying abroad not only will you enrich your knowledge but you will have a once in a life time experience.
and finally, you will survive no matter how difficult a situation is. enjoy your freshman year that you will have just one!